Ongoing Teaching
Pen to Print: at LB Barking and Dagenham's Pen to Print project. I lead poetry workshops on alternate Saturdays, see home page for booking link.
University of East London: Undergraduate degree in Creative and Professional Writing - lecturer on Poetry modules.
Past Projects
Performed in The Day The Circus Came to Town in the boiler room at Tower Bridge. 2019 - as part of the 125th anniversary of the bridge. This was a mixed multi-arts performance consisting of circus acts, actors, an immersive history walk, a chair dance performed by local care home residents, poetry and magic. I was the 'poetry'.
I was Poet in Residence to the Coin Street Community Builders heritage project : Waterloo Sights and Sounds - my work consisted of running workshops using the oral history materials and other bits and bobs! Groups worked with flash fiction and poetry and the results appeared in an exhibition at Waterloo Action Centre in September 2013 and January 2014. Previous poetry groups read at the Waterloo Festival 2011 and had a poetry stall at 2012's festival - getting participants to write.
Poetry Parlour meets irregularly at Cafe del Marsh, Lower Marsh, SE1 for coffee and cake and guest poets. Free entry to cafe customers - we also meet elsewhere on an occasional basis. Lambeth Readers and Writers Festival 2013 being one example.
Union Press - Public Works and Better Bankside - June/July 2012
Poet in residence to Union Press - ran project called 'Go Scratch Yerself!" collecting colloquial phrases or Slanguage for use in a community group poem printed as a Broadside publication. Part of a multi-arts project celebrating Union Street and its long and varied history - particularly its links with the print industry
Poet in the Archives
Following some years working for Lambeth Archives I have been offering and running writing workshops in Local Government Archives. Participants learn how to use archives and what materials are stored there and how to make creative use of them. They peruse and select materials in morning, and make notes. Then in the afternoon they write, followed by a celebratory read round at end. Workshops have been held at Barnet, Hackney and Wandsworth.
Trading Places - South Bank Centre and Spread the Word - Summer 2006
Poet in residence on Lower Marsh Market SE1 - working with sound artist Jim Carey. Collected 'lost' phrases (such as Charlie's Dead, Think I come up with the Vinegar Boat!, Red Hat, No Drawers!) got people to give or guess at translations and recorded material for sound wall. Wrote poetry based on findings.
Editorial and other roles
Not Shut Up - creative writing magazine for and by prisoners. Poetry Editor.
Koestler Trust - former poetry Judge
Workshops: HMP Brixton, Amy Johnson School - Croydon, Poetry Street - Hackney, Waterloo Action Centre, Brixton Art Gallery,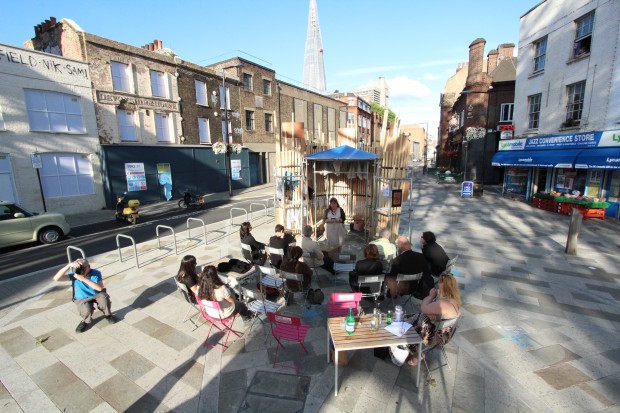 Left: Poetry Parlour at end of Slanguage day
Photo by Andreas Lang of Public Works
Right: Signage on the Kiosk at Flat Iron Square